Experience
Dr. Alexander N. Pavlov
PhD, PMI PMP, IPMA CPM
Email: apavlov@apavlov-pm.com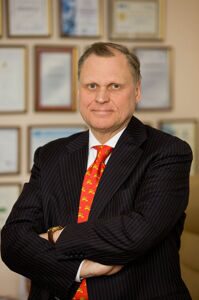 Major results and achievements:
Professional business trainer in the field of Project Management education courses development and delivery since 2001:
Author of Russian Presidential Academy of National Economy and Public Administration Master's Programs modules "Process Approach in Management and Project Management" and "Business Communication for Project Management Based on ANSI PMI PMBOK® GUIDE"

Author of the State University of Management MBA Program module "Project Management"

Author of High School of Economics MBA modules "Modern Technologies of Project Stakeholders interactions" and "Anti-crisis management"

Author of Master Classes on project, program and portfolio management, project risk, change and team effective management, and PMI PMP® exam preparation courses

Successful delivery of Master Classes and professional courses for a big number of corporate clients such as: IBS, LUKOIL, Norilsk-Nikel, NLMK, TNK-BP, ROSNEFT, OTIS, Lanit, SIEMENS, STEP, XEROX, UMC, МТС, Alfa Bank, SberBank, VneshEconomBank, RaiffeisenBank, IBA, Technoserv, Beeline, MegaLabs, MARS and many others.

Co-author of Russian Federation National standards on project, program and portfolio management (GOST Р 54869-2011, GOST Р 54871-2011, GOST Р 54870-2011).
Work history:
2015 – till now – Alexander Pavlov Project Management School, Founder and Head
2004 – till now - PM Expert Company: Partner, Leading Business Trainer and Consultant
2004 – 2015- PM Expert Company: Managing Partner, First Deputy General Director
2005 – 2007 - Project Management Institute (PMI®), Moscow Chapter, Vice President
2004/05 – 2004/11 – StroyInkom-K Ltd. (Africa-Israel Investments Corp. division in Russia): First Deputy General Director ( temporary contract )
2002 - 2003 – TransTeleCom Company: Vice President, Director, Sales Support
1993 – 2001 – IBM East Europe / Asia: Global Services Operations Manager, Professional Services Manager, Systems Integration Manager, Project Manager, Learning Services Department Manager
1992 – 1993 – Supreme Soviet of Russian Federation: The head of Software sector
1986 – 1992 – Russian Ministry of Atomic Power Information Center: The head of information systems design & development department
Special Accomplishments:
IBM: Successful managing and teaming project managers and engagement managers with responsibility for a number of complex multi-million USD budget projects:
5 Mio budget George Soros project for Russian Universities internet centers design & development;
16 Mio budget Federal Employment services project with complex delivery, roll-out of LAN & HW/SW installation, end user education ( about 450 AS/400s installation in 15 regions of Russia including Far East);
4 Mio budget Pension Fund of Russia application design & development project (Visual Gen application development in cooperation with IBM Cary laboratory)
IBM Marketing Excellence Award (1995), HPC Membership (1996), Business Leadership Award (1996)
TransTeleCom: Successful supervising of complex TELCO solutions design & development:
5 Mio budget PROTEK Co. corporate intranet system design & implementation;
3 Mio budget Sladko Co. fast internet & billing system solution development
StroyInkom-K: Successful coordination of large design & construction projects:
160 Mio budget Tverskaya Square underground mall development;
45 Mio budget Ozerkovskaya embankment complex real estate facilities creation
Education:
MS in System Analysis and Information Systems
- Moscow Physical Engineering Institute (1973 – 1979)
PhD in Information Systems Design & Development
- Moscow Physical Engineering Institute (1981 – 1984)
Advanced marketing/sales training, Completed Project Management education
- IBM International Education Center, La-Hulpe, Belgium, (1994 – 1996)
People Management education and Leadership Institute graduation
- IBM Central Europe & Russia HQ, Vienna, Austria (1998)
PMP, Project Management Professional, PMI Certified (2000)
CPM, Certified Project Manager, IPMA Certified Level C(2015).
Languages: native Russian, fluent English
Email: apavlov@apavlov-pm.com